GOOD ON EVERYTHING
Regular price
Sale price
$8.99 USD
Unit price
per
Sale
Sold out
Best Everyday Hot Sauce
Bold, classic flavor with a spicy kick, Kirk's Hot Sauce is an all-American hot sauce that really is Good On Everything. 
It enhances the flavor of any dish - from protein to vegetables to dressings - without overpowering. It's the best everyday hot sauce we've tried.
We love it on:
Wings

Pizza

Burrito Bowls
Burgers
Grilled Vegetables & Proteins
Eggs
Tacos
Marinades
Anything that could use a kick of savory heat
Everything, everyday
Ingredients:
Water, Distilled Vinegar, Spices, Sea Salt, Paprika, Onion, Roasted Garlic, Xanthan Gum, Yeast Extract
Nutrition Facts:
Calories 0; Total Fat 0g; Saturated Fat 0g; Trans Fat 0g; Cholesterol 0mg; Sodium 40mg; Total Carbohydrate 0g; Dietary Fiber 0g; Total Sugars 0g; Added Sugars 0g; Protein 0g; Vitamin D 0mcg; Calcium 1mg; Iron 0mg; Potassium 8mg
Share
View full details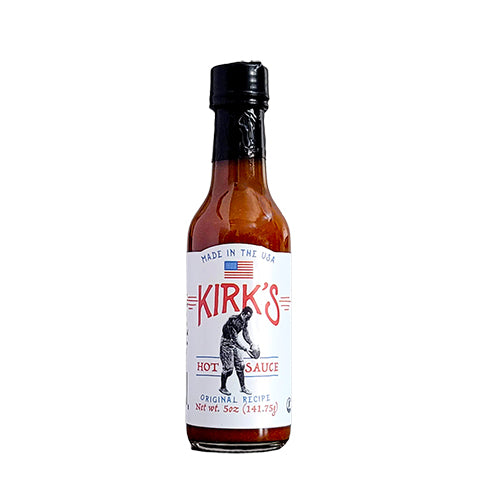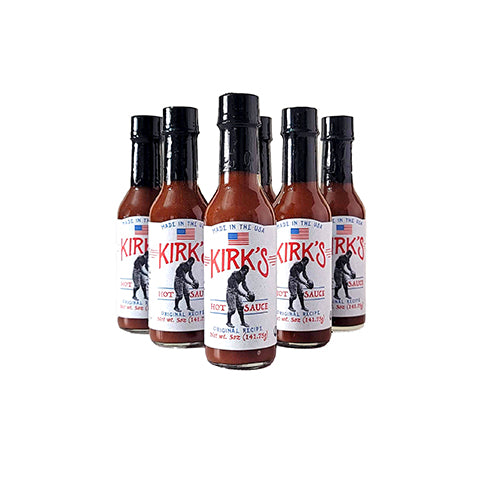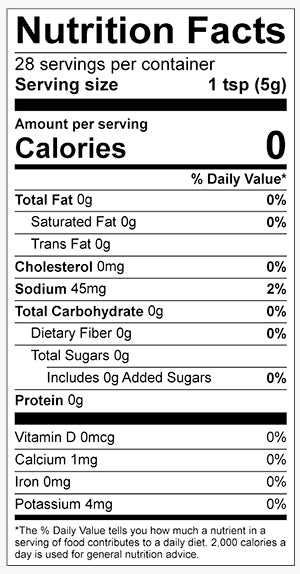 Frequently Asked Questions
How hot is Kirk's Hot Sauce?

Slightly hotter than your average sauce, with a nice kick at the end. We rank it a 4/5 on the heat scale.
Is Kirk's Hot Sauce gluten free?

Yes! Our founder is also gluten free, so we take this very seriously.
Is Kirk's Hot Sauce keto?

Yes, Kirk's Hot Sauce has 0g of carbohydrates, including 0g of sugar and 0g of added sugars. We use it to spice up our keto meals!
Is Kirk's Hot Sauce dairy-free?

Yes, Kirk's Hot Sauce is vegan and contains no animal-derived products, no dairy, and no honey.
How many ounces is in one bottle?

Kirk's Hot Sauce is packaged in 5 oz glass bottles.
How long until I receive my order?

We ship every order within 1-2 business days. You'll receive a tracking number as soon as it ships.
Do you offer returns?

Due to the perishable nature of the item, we cannot offer general returns. Please contact customer service for any issues and we will do our best to quickly resolve them!
Help - my bottle arrived broken!

Even though it is rare, occasionally bottles will be broken during shipment. Please let us know as soon as possible so we can make it right.

Send us a DM on our Instagram page: @Kirkshotsauce or email us at Support@kirkshotsauce.com